Format: World's First
Sculptural 12k Triptych Film Installation Work
More information
Exhibited at the V&A in London
where the piece took over the British Gallery Landing.
The work was listed as one of the
top 10 things to see at the London Design Festival.
BBBB is now touring.
If you are interested
please contact us.

'BEAUTIFUL IRONY' w/t
Format: Arthouse Feature Series
Recorded at Universal Studios LA
Starring: Catherine McGoohan
Dialogue Recordist/Mixer: ALAN 'DANGER' FREEDMAN
Formats : Audio Canvas, installation
Status : Version 1 COMPLETE
Version 2: Pre Production

'PAINTING THE PAST' w/t
Format: Arthouse Feature Series
Recorded at Universal Studios LA
Starring: Neil Dickson
Dialogue Recordist/Mixer: ALAN 'DANGER' FREEDMAN
Formats : Audio Canvas, installation
Status : Version 1 COMPLETE
Version 2: Pre Production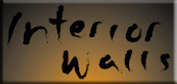 'INTERIOR WALLS 4'
Format: Audio Canvas
Recorded at LA STUDIOS
Starring: Neil Dickson, Catherine McGoohan,
Darren Richardson & Matthew Wood
Dialogue Recordist & Mixer: Cameron Davies
Formats : V1 Audio Canvas
Status : Version 1 COMPLETE
Production Information
'INTERIOR WALLS 3'
Format: Audio Canvas
Recorded at LA STUDIOS
Starring: Neil Dickson, Catherine McGoohan
& Matthew Wood
Dialogue Recordist & Mixer: Cameron Davies
Format: V1 Audio Canvas
Status: Version 1 COMPLETE
'INTERIOR WALLS 2'
Format: HD Canvas
Recorded at WIDGET POST LA
Catherine McGoohan
Dialogue Recordist/Mixer: ALAN 'DANGER' FREEDMAN
Format: HD Canvas
Status: PRE PRODUCTION
'INTERIOR WALLS 1'
Format: HD Canvas
Recorded at WIDGET POST LA
Starring: Neil Dickson
Dialogue Recordist/Mixer:ALAN 'DANGER' FREEDMAN
Format: Multiformat - V1 Audio Artwork, V2 Film
Status : V1 COMPLETE
Status: V2 Installation PRE PRODUCTION

'BEING NORMAL' w/t
PART ONE: Josie Daxter
Format: Mixed Media Short
Filmed at Gallery Studios London
Status : Audio Post Production